We continue our work on the waste pilote conducted in Barangay Udalo elementary school which, thanks to the strong support of the LGU and the Barangay, will expand to other villages. A few months into our joint project, the Principal, Mrs Sepillo is proudly showing the progress made possible by teachers and pupils' enthusiastic involvement. Ready to expand and replicate throughout the LGU with the support from the municipality!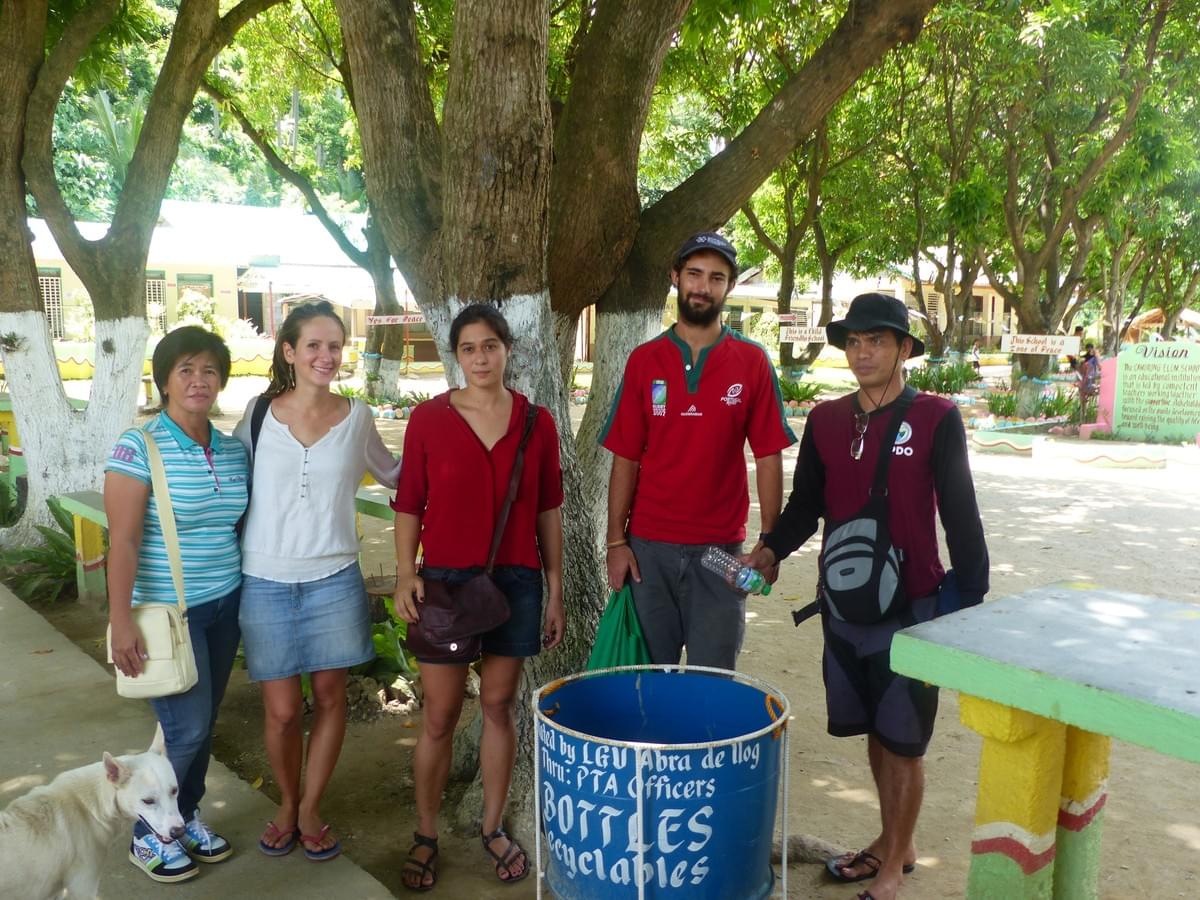 From left to right : Mrs Sepillo (the Principal), Marine, Elsa and Ryan (Ecotone Resilience) and Emer (LGU)
Mrs Christine (grade 4 teacher) is talking with Emer about the waste management initiated at the school
From left to right, Mrs Floresa ground facility manager (second in charge), Kagawad Minerva, two Purok leaders (sitio leaders), Pastor Eric, Mr Leon (grade 6 teacher), Mrs Christine (grade 6 teacher), Barangay secretary, Kapitana, Karina, Emer, Ryan, Mrs Sepillo, Marine and Elsa
In just a few weeks, the open pit was transformed into a neatly enclosed garbage area with labeled pits!​
We did a pit clean-up (previously filled with mixed trash) with pupils from grade 4 to 6 and their teachers as well as Betty from Lifeline. The pupils were highly motivated and enthusiastic to apply the theory of waste segregation and to prepare the pits for future use.
Four bins (schools' own initiative, funding from LGU – Local Government Unit/Municipality) were placed in the playground area to help the pupils to segregate their trash. We advised what labels to put on the different trash bins. Pupils cleaning the school the morning after the pit clean up, taking care to separate the trash.
Start of the second intervention (grade 6) where we discussed the different types of trash, their harm to the environment and the ways they can be used and effective waste segregation. We applied the theory through a game "Run fast, think fast" where pupils from each team had to pick up a trash in a non-segregated bin and put the trash in the appropriate bin (recyclables, biodegradables, residuals).
Pupils applying theory through a fun game with Marine helping out !
Aside from the studies their are conducting for the MPA, Marine and Ryan are also focusing on the problem of waste management and plastic pollution.
Through intervention in schools, Marine and Ryan (left) are working with the teachers to increase awareness through games, explaining the cycle of trash and their impact on the environment, introducing the concept of waste segregation and turning waste from a liability into a valuable resource thanks to recycling and composting.
Together with Emer Cristalino (Urban and Rural Planning Officer of the municipality) and the Barangay officials, they are studying the feasibility to set up a waste management action plan for Barangay Udalo.